Welcome!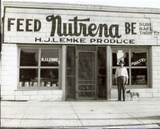 Step back in time to the local Mercantile Store. You could always find a wide range of products. The people that worked there were friendly and had a good knowledge of their merchandise.
Now step forward into our modern version of the Mercantile Store where we provide our customers with the same way of doing business. We answer questions promptly, offer quick shipping and amazingly fair prices.
We handle a wide variety of marine products such as; residential air filled dock floats, residential and commercial mooring buoys, all types of dock cushions such as dock harbor - blow mold - roto mold, rub rails, dock cleats and more. We have even added solar dock lighting, solar buoys and other solar items to our product line.
Also available in our store is a variety of truck tarps including but not limited to steel haulers, lumber haulers, and hay haulers. We even provide custom orders for special sizes and types.
As our Mercantile Store grows we will continue to add products that will add value to your everyday life. If at anytime you have any questions or request for special orders, feel free to contact us.
Thank you for shopping at our store!